Welcome to the Adult Services page of the Lower Providence Community Library website.  Find upcoming Programs & Events, check out our Resources for Readers, and send us your recommendations for books, DVDs, and other materials you would like to have in the library.  Also, please let us know if you have any ideas for programming. We would love to hear from you!
To register for programs, email Barbara Loewengart or call the library at 610-666-6640 for the Circulation Desk.
---
Adult Yoga
Yoga taught by certified yoga instructor Kamini Patel via Zoom. Class times are as follows:

Monday @ 4:00 pm
Tuesday @ 7:30 pm
Wednesday @ 12 noon
Friday @ 12 noon

Zoom ID    6568878396
Password  000816

Register For Adult Yoga
Chair Yoga for Adults
Chair yoga (gentle yoga for people with less mobility) taught by certified yoga instructor Kamini Patel via Zoom on Tuesdays at 2:00 pm and Thursdays at 4:00 pm.

Zoom ID    6568878396
Password  000816
Register For Chair Yoga
Meditation Sessions
Experience the many benefits of meditation.  Meets Monday evenings at 7:00 pm. Taught by Roger Shaughnessy, YT-200.  Please contact Roger directly via email  with the subject line "Monday Night Meditation" at rvshaughnessy@yahoo.com
Please join us for FREE meditation sessions. Open to all levels. Bring your active mind and wear comfortable clothing.
Register For Meditation Sessions
On Wednesday, November 18 at 7:00 pm, we will be discussing via Zoom The Keepers of the House by Shirley Ann Grau.  Please email Library Director Marija Skoog at mlskoog@mclinc.org for Zoom credentials.  All are welcome!
Winner of the Pulitzer Prize in 1965, The Keepers of the House is Shirley Ann Grau's masterwork, a many-layered indictment of racism and rage that is as terrifying as it is wise.
Entrenched on the same land since the early 1800s, the Howlands have, for seven generations, been pillars of their Southern community. Extraordinary family lore has been passed down to Abigail Howland, but not all of it. When shocking facts come to light about her late grandfather William's relationship with Margaret Carmichael, a black housekeeper, the community is outraged, and quickly gathers to vent its fury on Abigail. Alone in the house the Howlands built, she is at once shaken by those who have betrayed her, and determined to punish the town that has persecuted her and her kin.
Morally intricate, graceful and suspenseful, The Keepers of the House has become a modern classic. (From Book Movement.)
Register For The Evening Book Discussion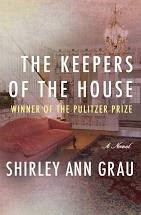 On Tuesday, November 17 at 12:30 pm, we will be discussing via Zoom The Yellow Bird Sings by Jennifer Rosner. Please email Reference librarian Barbara Loewengart at bloewengart@mclinc.org for Zoom credentials.  All are welcome!
In Poland, as World War II rages, a mother hides with her young daughter, a musical prodigy whose slightest sound may cost them their lives.
As Nazi soldiers round up the Jews in their town, Roza and her 5-year-old daughter, Shira, flee, seeking shelter in a neighbor's barn.
Hidden in the hayloft day and night, Shira struggles to stay still and quiet, as music pulses through her and the farmyard outside beckons. To soothe her daughter and pass the time, Roza tells her a story about a girl in an enchanted garden:
The girl is forbidden from making a sound, so the yellow bird sings. He sings whatever the girl composes in her head: high-pitched trills of piccolo; low-throated growls of contrabassoon. Music helps the flowers bloom.
In this make-believe world, Roza can shield Shira from the horrors that surround them. But the day comes when their haven is no longer safe, and Roza must make an impossible choice: whether to keep Shira by her side or give her the chance to survive apart.
Inspired by the true stories of Jewish children hidden during World War II, Jennifer Rosner's debut is a breathtaking novel about the unbreakable bond between a mother and a daughter.
Beautiful and riveting, The Yellow Bird Sings is a testament to the triumph of hope—a whispered story, a bird's song—in even the darkest of times. (From the publisher.)
Register For The Afternoon Book Discussion Group
A Different Kind of Book Club

A Different Kind of Book Club focuses on reading books with happy endings (romance, light fantasy, cozy mysteries and the occasional nonfiction). New members are welcome.
On Tuesday, November 17 at 7:00 pm, the club will be discussing Sweetness of Forgetting by Kristin Harmel. Meets on the 3rd Tuesday of each month. All are welcome to join. Please email Debra Duffy at deblrduff@gmail.com to receive a Zoom invitation or for more information.
Register For A Different Kind of Book Club
Holiday Cookie Extravaganza Virtual Workshop

Thursday, November 12 @ 6:30 pm

Learn some time-saving tips and hacks for holiday baking.  Bake along via Zoom with Kathy Wolper, owner of Kitchen Wizards. Recipes and ingredient lists will be provided when you register as well as Zoom credentials for the day of the program. Baking is a great way to get in the holiday spirit! Registration limited to 20 participants.

Presented by Kitchen Wizards. Kitchen Wizards is a spinoff division of Kathy's Just Desserts.  Kitchen Wizards helps kids of ALL ages
(4-94) to discover the magic of cooking, one bite at a time ®.

Register For Holiday Cookie Extravaganza
Memoir Writing Circle

The Memoir Writing Circle, which under normal circumstances would meet in person at the library, is now sharing their writing via Email. Once a month a member of the group offers a writing prompt.  Each member submits their piece to the group by a specified deadline and everyone offers each other supportive feedback. Submitting a piece each month is not required, but definitely encouraged. Please contact Kathy Thomas at k3Thomas@yahoo.com for more information or to become part of the group.

Join writers in finding their voice through memoir writing. The group will use writing prompts, poems, journal entries and images to discover the compelling themes and stories that comprise a memoir. Suitable for writers of all levels and experience.
Register For Memoir Writing Circle
Medicare
Do you have questions about Medicare? Need assistance with what Medicare options are available? Need to know what plan is right for you? Please call 610-834-1040 ext.120 to discuss your Medicare concerns and questions with an APPRISE counselor. APPRISE is a program funded by the Pennsylvania Department of Aging and other agencies designed to help Medicare beneficiaries understand their Medicare and health choice options.
Register For New to Medicare