Welcome to the Adult Services page of the Lower Providence Community Library website.  Find upcoming Programs & Events, check out our Resources for Readers, and send us your recommendations for books, DVDs, and other materials you would like to have in the library.  Also, please let us know if you have any ideas for programming. We would love to hear from you!
To register for programs, email Barbara Loewengart or call the library at 610-666-6640 for the Circulation Desk.
---
Adult Yoga
Yoga taught by certified yoga instructor Kamini Patel via Zoom. Class times are as follows:

Monday @ 4:00 pm
Tuesday @ 7:30 pm
Wednesday @ 12 noon
Friday @ 12 noon

Zoom ID    6568878396
Password  000816

Register For Adult Yoga
Chair Yoga for Adults
Chair yoga (gentle yoga for people with less mobility) taught by certified yoga instructor Kamini Patel via Zoom on Tuesdays at 2:00 pm and Thursdays at 4:00 pm.

Zoom ID    6568878396
Password  000816
Register For Chair Yoga
Meditation Sessions
Experience the many benefits of meditation.  Meets Monday evenings at 7:00 pm. Taught by Roger Shaughnessy, YT-200.  Please contact Roger directly via email  with the subject line "Monday Night Meditation" at rvshaughnessy@yahoo.com
Please join us for FREE meditation sessions. Open to all levels. Bring your active mind and wear comfortable clothing.
Register For Meditation Sessions
On Wednesday, October 21 at 7:00 pm, we will be discussing via Zoom Say Nothing: A True Story of Murder and Memory in Northern Ireland by Patrick Radden Keefe.  Please email Library Director Marija Skoog at mlskoog@mclinc.org for Zoom credentials.  All are welcome!
From award-winning New Yorker staff writer Patrick Radden Keefe, a stunning, intricate narrative about a notorious killing in Northern Ireland and its devastating repercussions
In December 1972, Jean McConville, a thirty-eight-year-old mother of ten, was dragged from her Belfast home by masked intruders, her children clinging to her legs.
They never saw her again.
Her abduction was one of the most notorious episodes of the vicious conflict known as The Troubles. Everyone in the neighborhood knew the I.R.A. was responsible. But in a climate of fear and paranoia, no one would speak of it.
In 2003, five years after an accord brought an uneasy peace to Northern Ireland, a set of human bones was discovered on a beach. McConville's children knew it was their mother when they were told a blue safety pin was attached to the dress—with so many kids, she had always kept it handy for diapers or ripped clothes.
Patrick Radden Keefe's mesmerizing book on the bitter conflict in Northern Ireland and its aftermath uses the McConville case as a starting point for the tale of a society wracked by a violent guerrilla war, a war whose consequences have never been reckoned with.
The brutal violence seared not only people like the McConville children, but also I.R.A. members embittered by a peace that fell far short of the goal of a united Ireland, and left them wondering whether the killings they committed were not justified acts of war, but simple murders.
From radical and impetuous I.R.A. terrorists such as Dolours Price, who, when she was barely out of her teens, was already planting bombs in London and targeting informers for execution, to the ferocious I.R.A. mastermind known as The Dark, to the spy games and dirty schemes of the British Army, to Gerry Adams, who negotiated the peace but betrayed his hardcore comrades by denying his I.R.A. past…
…Say Nothing conjures a world of passion, betrayal, vengeance, and anguish. (From the publisher.)
Register For The Evening Book Discussion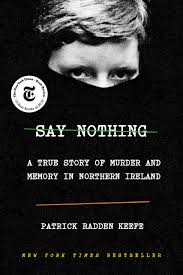 On Tuesday, Ocober 20 at 12:30 pm, we will be discussing via Zoom Wild Game by Adrienne Brodeur. Please email Reference librarian Barbara Loewengart at bloewengart@mclinc.org for Zoom credentials.  All are welcome!
A daughter's tale of living in the thrall of her magnetic, complicated mother, and the chilling consequences of her complicity.
On a hot July night on Cape Cod when Adrienne was fourteen, her mother, Malabar, woke her at midnight with five simple words that would set the course of both of their lives for years to come …
Ben Souther just kissed me.
Adrienne instantly became her mother's confidante and helpmate, blossoming in the sudden light of her attention, and from then on, Malabar came to rely on her daughter to help orchestrate what would become an epic affair with her husband's closest friend.
The affair would have calamitous consequences for everyone involved, impacting Adrienne's life in profound ways, driving her into a precarious marriage of her own, and then into a deep depression. Only years later will she find the strength to embrace her life—and her mother—on her own terms.
Wild Game is a brilliant, timeless memoir about how the people close to us can break our hearts simply because they have access to them, and the lies we tell in order to justify the choices we make.
It's a remarkable story of resilience, a reminder that we need not be the parents our parents were to us. (From the publisher.)
Register For The Afternoon Book Discussion Group
A Different Kind of Book Club

A Different Kind of Book Club focuses on reading books with happy endings (romance, light fantasy, cozy mysteries and the occasional nonfiction). New members are welcome.

On Tuesday, October 20 at 7:00 pm, the club will be discussing A Star for Mrs. Blake by April Smith. Meets on the 3rd Tuesday of each month. All are welcome to join. Please email Debra Duffy at deblrduff@gmail.com to receive a Zoom invitation or for more information.
Register For A Different Kind of Book Club
Memoir Writing Circle

The Memoir Writing Circle, which under normal circumstances would meet in person at the library, is now sharing their writing via Email. Once a month a member of the group offers a writing prompt, each member submits their piece to the group by a specified deadline, and everyone offers each other supportive feedback. Submitting a piece each month is not required, but definitely encouraged. Please contact Kathy Thomas at k3Thomas@yahoo.com for more information or to become part of the group.

Join writers in finding their voice through memoir writing. The group will use writing prompts, poems, journal entries and images to discover the compelling themes and stories that comprise a memoir. Suitable for writers of all levels and experience.
Register For Memoir Writing Circle
Medicare
Do you have questions about Medicare? Need assistance with what Medicare options are available? Need to know what plan is right for you? Please call 610-834-1040 ext.120 to discuss your Medicare concerns and questions with an APPRISE counselor. APPRISE is a program funded by the Pennsylvania Department of Aging and other agencies designed to help Medicare beneficiaries understand their Medicare and health choice options.
Register For New to Medicare