Welcome to the Adult Services page of the Lower Providence Community Library website.  Find upcoming Programs & Events, check out our Resources for Readers, and send us your recommendations for books, DVDs, and other materials you would like to have in the library.  Also, please let us know if you have any ideas for programming. We would love to hear from you!
To register for programs, email Barbara Loewengart or call the library at 610-666-6640 for the Circulation Desk.
---
Adult Yoga
Yoga taught by certified yoga instructor Kamini Patel via Zoom. Class times are as follows:

Monday @ 4:00 pm
Tuesday @ 7:30 pm
Wednesday @ 12 noon
Friday @ 12 noon

Zoom ID    6568878396
Password  000816

Register For Adult Yoga
Chair Yoga for Adults
Chair yoga (gentle yoga for people with less mobility) taught by certified yoga instructor Kamini Patel via Zoom on Tuesdays at 2:00 pm and Thursdays at 4:00 pm.

Zoom ID    6568878396
Password  000816
Register For Chair Yoga
Meditation Sessions
Experience the many benefits of meditation.  Meets Monday evenings via Zoom at 7:00 pm. Taught by Roger Shaughnessy, YT-200.  Please contact Roger directly via email  with the subject line "Monday Night Meditation" at rvshaughnessy@yahoo.com
Please join us for FREE meditation sessions. Open to all levels. Bring your active mind and wear comfortable clothing.
Register For Meditation Sessions
On Wednesday, May 19 at 7:00 pm, we will be discussing via Zoom A Year in Provence by Peter Mayle.  Please email Library Director Marija Skoog at mlskoog@mclinc.org for Zoom credentials.  All are welcome!
In this witty and warm-hearted account, Peter Mayle tells what it is like to realize a long-cherished dream and actually move into a 200-year-old stone farmhouse in the remote country of the Lubéron with his wife and two large dogs. He endures January's frosty mistral as it comes howling down the Rhône Valley, discovers the secrets of goat racing through the middle of town, and delights in the glorious regional cuisine.
A Year in Provence transports us into all the earthy pleasures of Provençal life and lets us live vicariously at a tempo governed by seasons, not by days. (From the publisher.)
Register For The Evening Book Discussion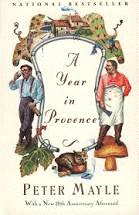 On Tuesday, May 18 at 12:30 pm, we will be discussing via Zoom The Rent Collector by Camron Wright. Please email Reference librarian Barbara Loewengart at bloewengart@mclinc.org for Zoom credentials.  All are welcome!
Survival for Ki Lim and Sang Ly is a daily battle at Stung Meanchey, the largest municipal waste dump in all of Cambodia.
They make their living scavenging recyclables from the trash. Life would be hard enough without the worry for their chronically ill child, Nisay, and the added expense of medicines that are not working.
Just when things seem worst, Sang Ly learns a secret about the ill-tempered woman they call "the rent collector" who comes demanding money—a secret that dates back to the Khmer Rouge and sets in motion a tide that will change the life of everyone it sweeps past.
The Rent Collector powerfully illustrates how literacy can change lives and how anyone can "rise from the ashes" in the most unlikely of places. (From the publisher.)
Register For The Afternoon Book Discussion Group
A Different Kind of Book Club

A Different Kind of Book Club focuses on reading books with happy endings (romance, light fantasy, cozy mysteries and the occasional nonfiction). New members are welcome.
On Tuesday, May 18 at 7:00 pm, the club will be discussing Home Before Dark by Riley Sager. Meets on the 3rd Tuesday of each month. For the June 15 meeting the club will be discussing The Good Earth by Pearl Buck. All are welcome to join. Please email Debra Duffy at deblrduff@gmail.com to receive a Zoom invitation or for more information.
Register For A Different Kind of Book Club
Memoir Writing Circle

The Memoir Writing Circle, which under normal circumstances would meet in person at the library, is now sharing their writing via Email. The group will be suspending their monthly email gatherings for April and May. Each month a member of the group offers a writing prompt.  Each member submits their piece to the group by a specified deadline and everyone offers each other supportive feedback. Submitting a piece each month is not required, but definitely encouraged. Please contact Kathy Thomas at k3Thomas@yahoo.com for more information or to become part of the group.

Join writers in finding their voice through memoir writing. The group will use writing prompts, poems, journal entries and images to discover the compelling themes and stories that comprise a memoir. Suitable for writers of all levels and experience.
Register For Memoir Writing Circle
Medicare
Douglas Keene, the APPRISE coordinator for Montgomery County, wants our patrons to know that state-trained APPRISE volunteer counselors have always offered free, unbiased easy-to-understand information about the best plans for health coverage for Medicare recipients. Counselors are available at (610) 834-1040 ext. 120 to return calls and assist people with their Medicare concerns? In addition, APPRISE has put a number of informative Medicare presentations (and more) on their web site at www.rsvpmc.org/medicare-help.  You can watch these presentations on your devices at your convenience.

Register For Medicare