Welcome to the Adult Services page of the Lower Providence Community Library website.  Find upcoming Programs & Events, check out our Resources for Readers, and send us your recommendations for books, DVDs, and other materials you would like to have in the library.  Also, please let us know if you have any ideas for programming. We would love to hear from you!
To register for programs, email Barbara Loewengart or call the library at 610-666-6640 for the Circulation Desk.
---
Adult Yoga
Yoga taught by certified yoga instructor Kamini Patel via Zoom. Class times are as follows:

Monday @ 4:00 pm
Tuesday @ 7:30 pm
Wednesday @ 12 noon
Friday @ 12 noon

Zoom ID    6568878396
Password  000816

Register For Adult Yoga
Chair Yoga for Adults
Chair yoga (gentle yoga for people with less mobility) taught by certified yoga instructor Kamini Patel via Zoom on Tuesdays at 2:00 pm and Thursdays at 4:00 pm.

Zoom ID    6568878396
Password  000816
Register For Chair Yoga
Meditation Sessions
Experience the many benefits of meditation.  Meets Monday evenings at 7:00 pm. Taught by Roger Shaughnessy, YT-200.  Please contact Roger directly via email  with the subject line "Monday Night Meditation" at rvshaughnessy@yahoo.com
Please join us for FREE meditation sessions. Open to all levels. Bring your active mind and wear comfortable clothing.
Register For Meditation Sessions
On Wednesday, December 16 at 7:00 pm, we will be discussing via Zoom Trust Exercise by Susasn Choi.  Please email Library Director Marija Skoog at mlskoog@mclinc.org for Zoom credentials.  All are welcome!
In an American suburb in the early 1980s, students at a highly competitive performing arts high school struggle and thrive in a rarified bubble, ambitiously pursuing music, movement, Shakespeare, and, particularly, their acting classes.
When within this striving "Brotherhood of the Arts," two freshmen, David and Sarah, fall headlong into love, their passion does not go unnoticed—or untoyed with—by anyone, especially not by their charismatic acting teacher, Mr. Kingsley.
The outside world of family life and economic status, of academic pressure and of their future adult lives, fails to penetrate this school's walls—until it does, in a shocking spiral of events that catapults the action forward in time and flips the premise upside-down.
What the reader believes to have happened to David and Sarah and their friends is not entirely true—though it's not false, either. It takes until the book's stunning coda for the final piece of the puzzle to fall into place—revealing truths that will resonate long after the final sentence.
As captivating and tender as it is surprising, Susan Choi's Trust Exercise will incite heated conversations about fiction and truth, and about friendships and loyalties, and will leave readers with wiser understandings of the true capacities of adolescents and of the powers and responsibilities of adults. (From the publisher.)
Register For The Evening Book Discussion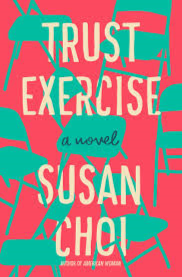 On Tuesday, December 15 at 12:30 pm, we will be discussing via Zoom Save Me the Plums by Ruth Reichl. Please email Reference librarian Barbara Loewengart at bloewengart@mclinc.org for Zoom credentials.  All are welcome!
When Conde Nast offered Ruth Reichl the top position at America's oldest epicurean magazine, she declined. She was a writer, not a manager, and had no inclination to be anyone's boss.
Yet Reichl had been reading Gourmet since she was eight; it had inspired her career. How could she say no?
This is the story of a former Berkeley hippie entering the corporate world and worrying about losing her soul. It is the story of the moment restaurants became an important part of popular culture, a time when the rise of the farm-to-table movement changed, forever, the way we eat.
Readers will meet legendary chefs like David Chang and Eric Ripert, idiosyncratic writers like David Foster Wallace, and a colorful group of editors and art directors who, under Reichl's leadership, transformed stately Gourmet into a cutting-edge publication.
This was the golden age of print media—the last spendthrift gasp before the Internet turned the magazine world upside down.
Complete with recipes, Save Me the Plums is a personal journey of a woman coming to terms with being in charge and making a mark, following a passion and holding on to her dreams—even when she ends up in a place she never expected to be. (From the publisher.)
Register For The Afternoon Book Discussion Group
A Different Kind of Book Club

A Different Kind of Book Club focuses on reading books with happy endings (romance, light fantasy, cozy mysteries and the occasional nonfiction). New members are welcome.
On Tuesday, December 15 at 7:00 pm, the club will be discussing One Day in December by Josie Silver. Meets on the 3rd Tuesday of each month. All are welcome to join. Please email Debra Duffy at deblrduff@gmail.com to receive a Zoom invitation or for more information.
Register For A Different Kind of Book Club
Holiday Card Making

Monday, December 14
Get creative with Sheetal Wagh as she shows you how to create cards through her YouTube channel. The library will provide you with materials to create three holiday cards. Card materials and design sheet MUST be picked up at the library between 12/7—12/12.
14 and older please. Registration required.
Register For Holiday Card Making
Memoir Writing Circle

The Memoir Writing Circle, which under normal circumstances would meet in person at the library, is now sharing their writing via Email. Once a month a member of the group offers a writing prompt.  Each member submits their piece to the group by a specified deadline and everyone offers each other supportive feedback. Submitting a piece each month is not required, but definitely encouraged. Please contact Kathy Thomas at k3Thomas@yahoo.com for more information or to become part of the group.

Join writers in finding their voice through memoir writing. The group will use writing prompts, poems, journal entries and images to discover the compelling themes and stories that comprise a memoir. Suitable for writers of all levels and experience.
Register For Memoir Writing Circle
Medicare
Do you have questions about Medicare? Need assistance with what Medicare options are available? Need to know what plan is right for you? Please call 610-834-1040 ext.120 to discuss your Medicare concerns and questions with an APPRISE counselor. APPRISE is a program funded by the Pennsylvania Department of Aging and other agencies designed to help Medicare beneficiaries understand their Medicare and health choice options.
Register For New to Medicare