Welcome to the Adult Services page of the Lower Providence Community Library website.  Find upcoming Programs & Events, check out our Resources for Readers, and send us your recommendations for books, DVDs, and other materials you would like to have in the library.  Also, please let us know if you have any ideas for programming. We would love to hear from you!
To register for programs, email Barbara Loewengart or call the library at 610-666-6640 for the Circulation Desk.
---
Adult Yoga
Yoga taught by certified yoga instructor Kamini Patel via Zoom. Class times are as follows:

Monday @ 4:00 pm
Tuesday @ 7:30 pm
Wednesday @ 12 noon
Friday @ 12 noon

Zoom ID    6568878396
Password  000816

Register For Adult Yoga
Chair Yoga for Adults
Chair yoga (gentle yoga for people with less mobility) taught by certified yoga instructor Kamini Patel via Zoom on Tuesdays at 2:00 pm and Thursdays at 4:00 pm.

Zoom ID    6568878396
Password  000816
Register For Chair Yoga
Meditation Sessions
Experience the many benefits of meditation.  Meets Monday evenings via Zoom at 7:00 pm. Taught by Roger Shaughnessy, YT-200.  Please contact Roger directly via email  with the subject line "Monday Night Meditation" at rvshaughnessy@yahoo.com
Please join us for FREE meditation sessions. Open to all levels. Bring your active mind and wear comfortable clothing.
Register For Meditation Sessions
On Wednesday, March 17 at 7:00 pm, we will be discussing via Zoom Days Without End by Sebastian Barry.  Please email Library Director Marija Skoog at mlskoog@mclinc.org for Zoom credentials.  All are welcome!
Thomas McNulty, aged barely seventeen and having fled the Great Famine in Ireland, signs up for the U.S. Army in the 1850s. With his brother in arms, John Cole, Thomas goes on to fight in the Indian Wars—against the Sioux and the Yurok—and, ultimately, the Civil War. Orphans of terrible hardships themselves, the men find these days to be vivid and alive, despite the horrors they see and are complicit in.
Moving from the plains of Wyoming to Tennessee, Sebastian Barry's work is a masterpiece of atmosphere and language. An intensely poignant story of two men and the makeshift family they create with a young Sioux girl, Winona, Days Without End is a fresh and haunting portrait of the most fateful years in American history and is a novel never to be forgotten. (From the publisher.)
Register For The Evening Book Discussion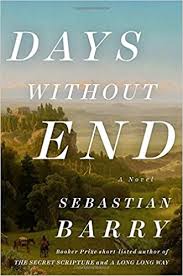 On Tuesday, March 16 at 12:30 pm, we will be discussing via Zoom A Piece of the World by Christina Baker Kline. Please email Reference librarian Barbara Loewengart at bloewengart@mclinc.org for Zoom credentials.  All are welcome!
Later he told me that he'd been afraid to show me the painting. He thought I wouldn't like the way he portrayed me: dragging myself across the field, fingers clutching dirt, my legs twisted behind. The arid moonscape of wheatgrass and timothy. That dilapidated house in the distance, looming up like a secret that won't stay hidden.
To Christina Olson, the entire world was her family's remote farm in the small coastal town of Cushing, Maine. Born in the home her family had lived in for generations, and increasingly incapacitated by illness, Christina seemed destined for a small life.
Instead, for more than twenty years, she was host and inspiration for the artist Andrew Wyeth, and became the subject of one of the best known American paintings of the twentieth century.
As she did in her beloved smash bestseller Orphan Train, Christina Baker Kline interweaves fact and fiction in a powerful novel that illuminates a little-known part of America's history. Bringing into focus the flesh-and-blood woman behind the portrait, she vividly imagines the life of a woman with a complicated relationship to her family and her past, and a special bond with one of our greatest modern artists.
Told in evocative and lucid prose, A Piece of the World is a story about the burdens and blessings of family history, and how artist and muse can come together to forge a new and timeless legacy.
(From the publisher.)
Register For The Afternoon Book Discussion Group
A Different Kind of Book Club

A Different Kind of Book Club focuses on reading books with happy endings (romance, light fantasy, cozy mysteries and the occasional nonfiction). New members are welcome.
On Tuesday, March 16 at 7:00 pm, the club will be discussing The House I Loved by Tatiana de Rosney. Meets on the 3rd Tuesday of each month. For the April 20 meeting the club will be discussing Traveling with Pomegranates by Sue Monk Kidd. All are welcome to join. Please email Debra Duffy at deblrduff@gmail.com to receive a Zoom invitation or for more information.
Register For A Different Kind of Book Club
Memoir Writing Circle

The Memoir Writing Circle, which under normal circumstances would meet in person at the library, is now sharing their writing via Email. Once a month a member of the group offers a writing prompt.  Each member submits their piece to the group by a specified deadline and everyone offers each other supportive feedback. Submitting a piece each month is not required, but definitely encouraged. Please contact Kathy Thomas at k3Thomas@yahoo.com for more information or to become part of the group.

Join writers in finding their voice through memoir writing. The group will use writing prompts, poems, journal entries and images to discover the compelling themes and stories that comprise a memoir. Suitable for writers of all levels and experience.
Register For Memoir Writing Circle
Medicare
Do you have questions about Medicare? Need assistance with what Medicare options are available? Need to know what plan is right for you? Please call 610-834-1040 ext.120 to discuss your Medicare concerns and questions with an APPRISE counselor. APPRISE is a program funded by the Pennsylvania Department of Aging and other agencies designed to help Medicare beneficiaries understand their Medicare and health choice options.
Register For New to Medicare